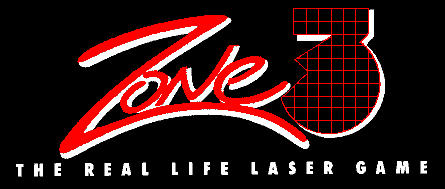 Zone 3 in Canberra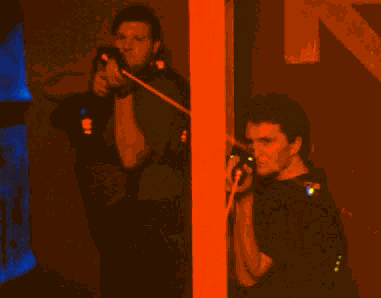 ZONE 3 is like nothing you've ever experienced before. Step into a futuristic labyrinth of different worlds clasping a laser gun, and be prepared for an exploration of three dimensions. Zone 3 is a laser-tag game which is a modern adaptation of the lantern stalks and wide games which Scouts have played for many years. You're caught in the middle of a space-age laser battle, where you'll test your skills and courage by destroying the oppositions base, de-energising your opponents and finding your way through the vast maze. It promises to give you an exciting and adrenalin pumping experience you'll never forget!

How does the game work?
Each player is given their own electronic vest pack and laser pistol. The pack has sensors and flashing lights on the front, back and shoulders. There are also sensors and flashing lights in the laser pistol. The flashing lights of each pack and laser pistol can be red, green or yellow and players choose which team they will be on by choosing their preferred colour. Players enter the indoor maze playing area where music is played, strobe lights flash and sirens sound. They use their laser pistols to shoot at opposing players and bases. Each accurate hit deactivates the target player and scores points depending on where the target player was hit. When you are hit your suit deactivates for around 8 seconds. Within the dimly lit playing area there are walls and obstacles, base-stations, sentinels and reload-stations. Players use all sorts of strategies and tactics until the end of the game when the team or player with the highest score is declared the winner. The game lasts for approximately 15 minutes and all your hits and misses during the game are recorded on a summary score sheet which is printed out for you at the end of the game.
| | | |
| --- | --- | --- |
| Where | - | 24 Weedon Close Belconnen next to the Pot Belly. |
| Cost | - | $9.30 per game inc GST - less if you are a Zone 3 member. |
| Players | - | A game can accommodate a maximum of 7 players on each of 3 teams (total of 21) but 6 people still makes for an interesting game. |
| Who | - | Anyone Young at heart, Male/Female/Undecided! |
| Why | - | Because itís a fun game. |
Link to Live Webcam at Zone 3 Canberra
Link to Snipers Mail List for Zone 3 Canberra
Link to Zone 3 Canberra - or - Return to Neil's Home Page
This is the 12766th external access of this page