Our history
How do I join up?
Honour Board
Our Constitution
Merchandise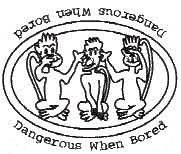 New Crew Logo, Designed by Merle Ketley.

Old Crew Logo.
Bethungra is an aboriginal word for "Black Hill" and was chosen as a pertinent link to Canberra. The original logo incorporated Telstra Tower and Black Mountain. The logo has since been updated to the modern version of the Three Monkeys (Background image) – don't ask just believe our motto "Dangerous When Bored".
Bethungra Rovers were formed in 1985 from a group of Aranda Venturers who decided to form a Rover Crew after getting too old for Venturers.