Amateur Radio
I am an Amateur Radio Operator (HAM) and my call sign is VK1KNP - Australian Capital Territory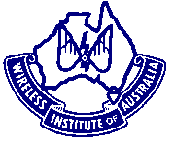 I am a member of the Wireless Institute of Australia (WIA) - Canberra Region Amateur Radio Club and also an accredited examiner/invigilator for the WIA Examination service.
Amateur Radio is a world wide hobby which covers a wide range of interests in the communications field. Some amateurs enjoy long solitary hours in the shack making long distance (DX) contacts around the world on High Frequency (HF). I prefer to build things, experiment, find out how stuff works and pass knowledge onto others.
Aspects of the Hobby that Interest me:

Amateur Television - Fast Scan - I am a member of the British Amateur Television Club (BATC).
Packet Radio - 4800 baud+ digital communications - Treasurer of Canberra Amateur Packet Radio Group (CAPRG). - Have designed a 300/1200/4800 baud tri speed modem board which the group has distributed 200 so far.
ARDF - Fox Hunting or Radio sport - Recently involved in putting this activity back on the ACT calendar.
VK1 Repeater Group - Maintenance and Construction of the local Amateur repeaters and associated equipment.
VK1 Technical Group - Forum for amateurs to kick around ideas for equipment and assist each other to implement their ideas.
VK1 TAC - Technical Advisory Committee member for VK1
Satellite Activity - Interested in Tracking Satellites and decoding their signals - Have interfaced the Antenna Controller of a Scientific Atlanta 10 Metre all band dish to Instant Track allowing tracking resolution of 0.01 degrees.
WICEN - Wireless Institute Civil Emergency Network member - Assist with Emergencies and general communication activities when required.
JOTA - Jamboree of the Air - Brings Amateur Radio to the youth members of the Scout and Guide Associations on the 3rd full weekend in October each year.
Field Operation - Have equipment capable of operating in the field away from normal infrastructure.
RF Design - Trying to make Radio Frequency components (cavities, filters, antennas, receivers, amplifiers) out of readily available materials.
Junk - Collector of all sorts of electronic Junk - You never know when that might just become useful.
Other General Amateur Radio Links

Return to Neil's Home Page - or - E-Mail: Neil
This is the 8904th external access of this page

Java Script Test area