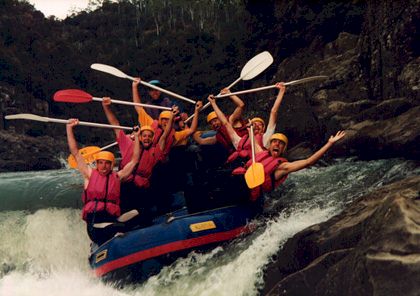 Members of Bethungra White water rafting in Tasmania.
Bethungra Rover Crew participate in a wide range of activities, to make it easier to find out about any that you are particularly interested in we have divided them up into four areas. Rovers is a youth movement that aims at youth development in four areas and this is how we have divided the activities:
Bethungra participates in a wide area of social activities, including scouting orientated ones to everyday ones such as Birthdays and weddings.
As part of Bethungra you get the opportunity to meet lots of people, many of them with similar interests.
Obviously, social activities comprises a large part of the crew activities. Some examples are Pizza and video nights, Movie nights, weddings, birthdays, Christmas party, parties in general, intercrew activities and many, many more.
For some examples and reports on past social activities try the Previous activities page.
Bethungra is always doing something different on their program. This gives you an opportunity to learn and experience new things. Some examples are, dancing, woodwork, glass painting, cooking, how to use a two way radio, acting, writing, how the weather works and many many more.
For some examples of past Mental Development activities try the Previous activities page.
Rovers is a non-denominational non-religious organisation. The spiritual development that happens is more personal. It is very hard to point at any one whole activity and say that it is based on spiritual development. There have been activities based on self esteem, creative thinking and self confidence.
For some examples of previous Spiritual development activities try the Previous activities page.
Members of Bethungra are involved in many Physical activities. Popular activities include, rock climbing, abseiling, caving, canoeing, skiing, hiking, cycling, and many many more.
Bethungra has also had a number of sports teams formed by its members over the years, soccer, volley ball and currently two netball teams.
You can have a look on the Previous activities page for examples of past physical activities.