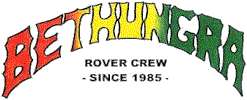 Jess's



The Latest Scouting News from the Box Brought to you by Jess
[ Home ] [ Current Calendar ] [ Types of activities ] [ Previous activities ] [ Latest Box Info ] [ Previous Box Info ]
---
15 September 2000
Bike Sale:
LBG are holding a bike sale, Sat 21 Oct, 9am - 4.30pm.
They're selling bikes and associated equipment, if you want to sell stuff it costs $2 plus 15% comission. call 6288 4622 for info.
Rock n' Roll Ball:
Dr Soul's Rock n' Roll Ball:
Fri 6 Oct, 8pm til late at the Deakin Soccer Club, $6 at the door. Fancy dress, games, raffle etc.
Presented by: Lands End Rover Crew
Sailing:
Summer Sailing: I have info on a range of sailing events open to all scouting members.
Billy Cart Derby:
This years Billy Cart Derby has been re-scheduled to the 12th Nov at ADFA, registration is at 10 am
Youth Ambassadors
Australian Youth Ambassadors for Development Program:
There are 240 positions to go overseas in 2001 and work on assignments the program has sourced. Contact the international commissioner if you're interested: int.comm@scouts.com.au
15th Aust Rover Moot
Australian Moot: There are more expression of interest forms, I'll post them to Neil so that people can access them
---
14 July 2000
Power Boat Handling Course
Small Power Boat Handling Course (TL3) - branch is running this during August (Thurs night for theory and weekend prac) The cost is $60 and application forms are available at branch (Mort St. Braddon)
15th Aust Rover Moot
Australian Moot - I have staff expression of interest forms for people to old to attend as rovers (can people please pass this to any bofians they know who are still in the movement)
15th Aust Rover Moot
Australian Moot - Lyndel Miller wants expression of interest forms returned ASAP (I have copies for those who need them) She's also willing to came to crew meetings to do a promotional thing for us
---
26 June 2000
15th Aust Rover Moot
15th Aust Rover Moot - it's on in QLD, 27 Dec 2001 - 6 Jan 2002. The ACT contingent leader is Lyndel Miller. The cost is $550 + expedition cost ($100 - $600) + ACT fee (undecided). I have expression of interest forms that need to be filled out so the organisers know what to organise - let me know if you want a copy.
Alpine Activities
There is a range of training camps for adult members so you can get accredited for this adventerous activity. I've got all the details.
Remote Area 1st Aid
St. John's course on 9-10 Sep, cost $130, must have level 2 certificate current. Bookings - 6282 2399.
Community Affairs
ACT Comissioner for Community Affairs - branch needs this position filled, if you're interested (or know someone who might be) I have a copy of the job description.
---
4 June 2000
Canberra Gang Show 2001
Canberra Gang Show 2001 - written expressions of interest for production, technical, and support team positions must be in by the end of June. I have the lists of positions and mailing details.
Snowgum Prices
Snowgum products - due to GST, uniforms, clothes, shoes and books will go up 10% on 1 July, so get in early.
Water Activities Contacts
Water activities - there is a branch contact list, let me know if you want to contact someone.
Terry Fox Fun Run
Terry Fox Fun Run 2000 - a 5km walk/run or a 10km run on Sunday 18 June to raise money for cancer. Entry $15 (includes free brunch.) I've got the entry forms.
---
15 May 2000
Kaleidoscope Jamboree 2001
Jamboree 2001 - there's a chance for Rovers to go to run Kaleidoscope, there'll be one in every subcamp and a large Dragonskin style one as well. Cost - $550, I have copies of the application (need to be sent away ASAP.)
Agoonoree 2000
Agoonoree 2000 - a camp for scouts, venturers, and rovers with disabilities and those who are able bodied. 14 - 18 Sep at Wagga Wagga, email paulp@ahplant.com.au for more info.
Snowgum Discount Night
Snowgum 20% off - this Thurs, 18 May, from 5.30pm to 9pm.
Paintball
Super Cheap Paintball - $50 for 10 tickets giving a day of paintball, eqipment hire, BBQ lunch. The only expense is the paintballs ($20 for 100.) I have all the details.
Discount Shell Auto Care
Shell Auto Care - 10% service and repair discount with your scout card. Call 1800 308 372 for nearest participating outlet.
Recycling Ink Jets
Used ink jet cartridges - we can make money collecting them, I have more info.
Desert walk
Peter Treseder - he wants to take a Rover with him on a desert walk from 20 - 31 July. I have the forms and they have to be in by 5 June.
Rover Speleological Society
Rover Speleological Society - I've got the minutes from their AGM and an application form for this year. Are we interested? Does anyone know anything about it?
GEO magazine
GEO magazine - special offer to help scout groups: 1 year's subscription for $29 - I have the forms.
---
10 April 2000
Anzac Day Dawn Service
Geoff Crossley is looking for volunteers to disrtibute Dawn Service programs on Anzac Day at the War Memorial. You'll need to be there at 0430h, it'd be a good Service/PR opportunity. Call Geoff on 6286 1113.
Billy Cart Derby
Billy Cart Derby is on 28 May 2000, from 10 am til 3.30 pm at ADFA. There are two trophys we can compete for.
---
23 March 2000
Corroboree 2000
Corroboree 2000 - 28 May in Sydney. It's a walk across the harbour bridge for reconcilliation.
Branch Regatta
ACT Branch Regatta - 1-2 April at Yarralumla Bay. Saturday is sailing, Sunday is canoeing and the raft comp and Rovers can enter.
Korean War Memorial
Korean War Memorial opening - Tues 18 April. Henry Moulds still needs 200 people to carry flags at the opening of the memorial on Anzac Pde. Call him on 6231 5688 after 6pm if you're interested.
Olympics Secret Mission
Sydney Olympics Secret Mission - everyone should already have seen this through email.
---
7 March 2000
Alpine Leader Training
Alpine Leader Training 2000: Beginning with a theory day 18 June, followed by weekends at the snow 8/9 July, 12/13 Aug. Also an Alpine Leaders only social ski tour 26/27 Aug, and then there's the Branch Alpine weekend on 8-10 Sep. Talk to Brian 6241 5221.
Alpine Leaders List
Still talking about snow, there is a list here of all the qualified Alpine Leaders in the ACT. So if you wanted to run a ski weekend, these are the people to talk to. Jeff and Gerard are both on this list.
Spectator Marshalls
90 Spectator Marshalls are nedded for the GMC400 race to be held in Canberra 9-11 June. Call Ross McConnell 6291 5796
---
1 March 2000
Gangshow Orchestra
Gangshow is looking for people to be in the orchestra this year. Anyone who can play anything call Pip Dean 62416180 or pipdean@netscape.net
---
23 February 2000
Alice of Hearts
You and your friends and family are invited to the special Scout preview of "Alice of Hearts", a comedy based on Alice in Wonderland but she is all growed up. Tues 14 March, Theatre 3, Ellery Cr, Acton at 7.30pm. Tix thru Scout Office 62572251: Adults $20, Students $15, Scouts $10.
Dragonskin
Graham Hannaford looking for people to run activity bases at Dragonskin over Easter. Call 62581940, or Graham.Hannaford@immi.gov.au
Walk Against Want
Walk Against Want is on Sun 19 March, beginning 10am in Commonwealth Park. 5km walk or 18km cycle. Proceeds to Community Aid Abroad. You can get a free massage afterwards!! Plus fundraising incentives for individual or team entries, plus heaps of prizes like ski packages and whatnot. Call 1800 034 034 to register.
---
3 February 2000
Gangshow 2000
Applications for Gangshow close 20 Feb, so if you want to be in cast or backstage contact Phil Oldfield for a form. 62547094.
Thank You card
The other wildly exciting mesage from Branch is that there is a newly developed Thank You card available for purchase. It's only 20c, including......drum roll please......one envelope!!! While stocks last.
---
This page was last updated on: Friday, 14 September 2000
Contact Details:

Bethungra Rover Crew
C/- ACT Scout Headquarters
PO Box 251, Civic Square, ACT 2608

OR

Email us:

This page was created by Jenny Farrelly, Jessica Rodda (content) & Neil Pickford (Markup)