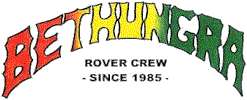 Jen's



Previous Scouting News from the Scout Box System Brought to you by Jen
[ Home ] [ Current Calendar ] [ Types of activities ] [ Previous activities ] [ Latest Box Info ] [ Previous Box Info ]
---
7 December 1999
Intercrew Weekend
Reminder : Intercrew weekend at the coast this weekend!! RSVP to Alison alisonf@isr.gov.au
Ocean Sailing
For a "once in a lifetime" Ocean Sailing experience on the "Canberra", call Leanne Tarbotton 62910882.
Scout Xmas trees available from Magnet Mart Belconnen/Phillip or Dickson Shops from Dec 11. $15.
CL NZ Venture 2001
Anyone interested in being a Contingent Leader for the 8th New Zealand Venture in Jan 2001 contact Brenda de Bes 62812521.
Branch fees will increase by $2 to $40 in 2000, or $44 if we are unable to be exempted from GST. TBC.
New Sponsor
Scouts Australia has a new sponsor - AMF Bowling. Show your membership card to get 2 games and shoe hire for only $9.
Europe for You
Europe for You! is a programme for Venturers and Rovers which involves travel and service throughout Europe. I have a detailed pamphlet if you are interested.
Branch Office
The Branch Office will be closed from Dec 24 to Jan 10. They wish everyone a happy festive season.
Jens Squire Project
Reminder to all crew members to contribute your history in the crew to Jen along with a photograph or two so she can compile a photographic log of the crew.
28 November 1999
Regatta 2000
For anyone who plans really far in advance, Regatta 2000 is on at Yarralumla Bay on Sunday,2 April 2000. Events include Canoeing, rafting, Construction, Pirate, Coracle, Sailing. Details from tmill@ozemail.com.au or 62319101.
There is also a list here of all the international Rover events that are on in 2000-2001. Let me know if you want to see it.
9 November 1999
ACT Water Activities News
- We are exploring the feasiblity of taking minibus excursions to the new Olympic canoe slalom facility at Penrith. Expressions of interest to Jodie Poole 62596244 or Noel Tarbotton 62910882.
- There is a long list of canoe and sail courses for 2000. Let me know if you are interested and I'll send you the details
2 November 1999
ACT SAIL MOOT
27-28 November ACT SAIL MOOT run by LBG Rover crew Lots of fun stuff like sailing and kayaking and canoe polo and a dunking machine and that type of thing. The contact was Angus MacDonald....if you interested in going, ask me to hunt out his number for you. I think it was $30 including dinner on Saturday night.
26 October 1999
TOTALLY TRIVIAL NIGHT
What:TOTALLY TRIVIAL NIGHT
When: 13 November 99 (Sat)
Time: 7.30pm - 10.30pm
Place: West Canberra Football Club, Hardwick Cres, Holt.
Price: $10 (includes brain food - what a bargain)
Why: To support the ACT Contingent to the Mexico Moot who will all be eternally grateful and never say rude things about you behind your back again, if you come.
What's in it for you: Prizes! MOney! Free Sex!! (at least one of the above anyway)
Register at actmexico@thespark.com or call Alison
18 October 1999
Lake Ginninderra Trivia NIght
Lake Ginninderra Trivia NIght is on Oct 23 from &pm at their hall. Entry by gold coin donation. Call Alison to book a table 0412 717 550.
Regatta
Lake Tugg Sea Scouts are running a regatta as part of the Tugg Festival on 13th NOvember, including rowing, canoeing, raft racing, sailboarding, sailing etc. From 10am at their hall on Mortimer Lewis Dr, Greenway. Call Ross McConnell 62915796 for details.
Gangshow 2000
I have info and application forms for Gangshow 2000 for those who want them.
Snowgum Double Discount
Double Discount night at Snowgum Wednesday 20th October 6pm - 9pm.
11 October 1999
Erindale Rovers Wine & Cheese
Erindale Rover Crew's annual Wine and Cheese night is on Saturday 30 Oct at Reid Scout Hall, 8pm. $15 gives you a night sampling fine wines and cheeses. Tix available from Ben 0412 082 724 or Cathy 0412 446 612.
6 October 1999
JOTA
A reminder about JOTA Kambah.......its on Saturday 16th October. Bookings essential - call Chris Shelling 6282 1158 or chris.shelling@aph.gov.au
27 September 1999
HEY HEY ITS FRIDAY
Oakey Hill Venturers are holding their very popular HEY HEY ITS FRIDAY on 29 Oct, 7.30pm at their hall in Lyons. $7 entry includes sausage sizzle. Enquiries call Freya on 6231 9536 or 0412 240 859.
Drug Education
Drug Education Information night for ACT Branch Scouters will be held on Thursday 21 Oct, 7.30pm in the Riley Room at Pilgrim House, Northbourne Ave. Angela Wood will be addressing the meeting. Interested people please RSVP to Greg Tarrant 6254 2573, Henry Moulds 6231 5688, or Branch 6257 2251.
Mental Health
Mental Health Resource's Speak Out Project are keen to visit youth groups and give presentations on Mental Health. To book a presentation call the Mental Health Resource Centre on 62874214 or mhr@cyberone.com.au
20 September 1999
Our image for Tomorrow Launch
ACT Rovers launch of "Our image for Tomorrow" is on at Reid Activity Centre, Tuesday 21 Sept (thats tomorrow) at 8pm. Supper provided. RSVP to actrovers@yahoo.com or call Cathy 0412 446 612.
Pub Golf 4
Pub Golf 4 - Friday 17 Dec, starting from LGB Scout Hall at 6.15pm. $25 includes bus, dinner, champagne, discounted drinks. Dress code applies - you must wear hawaian shirt and sunnies. Tickets Simon Visser 0413 315981. Pay by 13th Dec to receive a BONUS Pub Golf CD, containing all the music you will hear on the bus throughout the night.
Mexico Moot 2000
There is also updated info here regarding the Mexico Moot 2000. Those who have already applied will have received thie own copy, but if anyone else is interested in having a look, just let me know.
Venture 2000 video
"So, do you want to be in the movies?" A video is being made to promote the Venture which will be held in ACT in 2000. They are looking to assemble "a crack team of extreme sportspeople" to film doing crazy stuff. In particular they are looking for 50 mountain bike riders. Or you can help with script editing, stunt coordination, makeup, lighting, camera op, stills photography, or first aid. Apparently they are going to need lots of first aid. So if you would like to contribute, contact Terry Browne at terrybrowne@ozemail.com.au
13 September 1999
Queens Scout/BP Presentation Dinner
There is an invitation here for those who would like to attend the Presentation Dinner for Queens Scout/BP awardees, Friday 22 Oct, 7pm at the Chifley, Northbourne Ave. Cost $30. RSVP to Branch by Monday 27 September.
JOTA/JOTI
JOTA/JOTI is on at Long Gully Scout Hall in Longerenong St Farrer on Sat 17 and Sun 18 Oct. Contact 'Sparky' on 6286 4612 AH to book a time.
Sailing Adventure
Majura Venturers, in partnership with Dickson College, have chartered a 72 foot sailing boat and are planning to sail from Sydney to Port Stephens and back. They are inviting interested Venturers, Rovers and Leaders to join them. There are two five day voyages, Mon 27 Sept to Fri 1 Oct, or Mon 4 Oct to Fri 8 Oct. Cost $450 including food and coach travel to Sydney. You will be expected to carry out all the duties of a member of the crew. Call John Hood 6205 6455 by Friday 17 Sept. hood@tyndale.apana.org.au
Cuboree 2002
If you want to join the Cuboree 2002 team, contact Leo Farrelly 6241 5221, leo_farrelly@onenet.net.au or come to an Information evening at 8pm 30 Sept, at Reid Activity Centre. Help is needed with Activities, Finance, Catering, Sites and Services, Communications, Admin, Promo, Welfare and PR.
Rock Climbing Competition
ANU Mountaineering Club is holding a rock climbing competition on Sun 19 Sept at the ANU climbing wall, heats 9.30 - 12.30, finals from 2.30pm. Beginners are encouraged to participate, there are prizes in 4 divisions plus random participation prizes. $8 to enter. Call Cuan Petheram 6247 6185 (h) or 6246 5708 (w).
6 September 1999
Economically Disadvantaged
There is a letter from Branch about funding for economically disadvantaged youth members. They can provide assistance by waiving registration fees, providing uniforms, providing funds for special camps or activities, etc. I have application forms or you can contact Ruth Tannahill on 62596433 for more details.
Waterwatch
A message from Environment ACT - if you would like to help them in their annual survey of water quality, grab an insect net, head down to your local waterway and count how many large, boneless insects live in or on the water. More info contact Bayne Geikie, Waterwatch coordinator for the Molonglo Catchment, on 62472956 atcv@actonline.com.au
30 August 1999
Deep Space 99


Join the Crew of Deep Space 99 and assist Australian scouts to earn the boy scouts of America Space Exploration Merit badge. Deep space 99 is the first space badge camp for Australian scouts and it is being held right here in the ACT. The Jamboree style atmosphere camp will take place at Camp Cottermouth on September 29th to October 3rd. We need help from Rovers to assist with security, first aid, catering, amenities, a frat tent, a disco plus running activities. There are 650 scouts and 200 leaders and helpers attending this camp with half the scouts off site each day. Contact Kellie Tebb (03) 9795 1913 or 0411 116 446 for more information. www.scouts.asn.au/victoria/spacebadge/badge/space.html
Olympic Landcare
This Sunday 5th September is Olympic Landcare Planting Day, 10-3pm, Victoria St, Hall. Free BBQ lunch and entertainment, plus you get to meet some Olympians and Paraolympians. The official catchcry is : "Don't get Dad breakfast in bed, come and plant a tree instead!" 1800 155 180 for details.
JOTA 99
JOTA 99 is on Sat 16 Oct - Sun 17 Oct at Weston Scout Hall, Namatjira Dr, Weston. CB radio, UHF Radio, Packet radio etc. Bookings essential. Call Cathy Clutton 62885006. It is also on at Mt Rogers Scout Hall Charnwood. Contact Mick Hickey on 62585719 or Neil.
JOTT
JOTT (Jamboree on the Trail) is on Saturday 13th May, 2000. (Is anyone organised enough to be planning this far ahead??) There is a big long letter about this, I think the general idea is that Scouts from all over the world go out hiking on the same day. More info at www.scoutbase.org.uk/activity/events/jottmain.htm
YAC
There is a brochure here about the Ministerial Youth Advisory Council 1999-2000 if anyone would like to have a look at it.
Postcard
There is a Canadian postcard from our illustrious crew leader Jeff. As of the 18th of August he was heading for Whistler, despite cries of surrender from his credit card. He beat the postcard home anyway so you can get the full story from him in person.
23 August 1999
Trekathon
More details about the Trekathon, Sunday 19 september, 11-3pm, starting at Kings Park. Wear Fancy dress and group scarf. You get a free sausage sizzle. I've got sponsorship forms if you wanna go.
Freedom from Hunger
Freedom from Hunger appeal 11-19 September, contact Branch 62574472 if you can spare some time to doorknock.
Candle Day
Annual Candle Day 22-24 October. Amnesty is looking for people to sell candles or badges.. Also they have guest speakers willing to come and talk about stuff. I've got more info if you want it.
Megasale
Snowgum Megasale 26 August - 11 Sept. Lots of cheap stuff.
leader profiles
I've got current leader profiles for Coran and Neil. These need to be checked that the details are correct (can you remind me tonight guys?) Also is there anyone else who has a warrant apart from those two??
Mexico Intencity
Finally there was a reminder about the Intencity night this THURSDAY....but I'm sure everyone already has that circled in red in their diaries and is planning to bring 60 friends along..right??
8 August 1999
Branch Alpine Weekend
Branch Alpine Weekend is on 10-12 September. $50 covers food from Friday supper to Sunday Lunch and a bed and hot shower in Jindabyne. BYO everything else. Call Brian Farrelly on 62415221.
Rescue Techniques night
For Rock Activity Leaders and Party Leaders there is a Rescue Techniques night on at Long Gully Scout Hall, Farrer, on Thursday 12 August. Call Geoff Crossley on 62861113 for more details.
Contingent Leader required
ACT Branch is looking for experienced leader to be a Contingent Leader to the Nippon Venture in Japan in August next year. Expressions of interest to Branch by 20 August. Brenda de Bes and Pat Boling will convene the selection panel.
Trekathon
The annual trekathon is on 19 September starting from Aspen Island at 10.00am. The route is 4km and you can go around as many times as you like. I have sponsorship forms if you would like to participate.
Squawk TV URGENT
Squawk TV season 2 will commence on Netwoek 10 from Sept 19, airing in the prime youth time slot of Sunday 8am, following 'The Big Cheez' and prior to Video Hits. Six "Scouts in Action" segments will be showing.
Focus ACT
Focus ACT (a non-profit organisation providing support to intellectually disabled adults) are looking for people to become friends with someone who may be lonely or isolated. Call Eva Tatrai 62829422 for details of how you can help.
---
27 July 1999
Powdafest
Powdafest 6-8 August at Kosciusko Mountain Retreat. A weekend of snow based shenanigans for Venturers and Rovers. $24 covers camp fees and admin - you organise skis, transport etc. Instructors available to lead XC trips both days if you like. Sat night dinner can be provided if you like. Contact Adam Maher 0412 64 7409.
Rover Leader Drinks
Rover Leader Drinks. 14 Aug at Ainsle Footy Club. 7-12pm. $5. Gangsters and Molls theme (what is a Moll?) RSVP by 1 Aug to 62963515. The invitations are very snazzy by the way. Also there is discounted costume hire for the first 20 people to call that number and leave your name and ph no.
Radio and Electronics Base
People interested in the future direction of the Radio and electronics Base are invited to attend a meeting at 2pm Sun 15 Aug at the Base, Kitchener St, Hughes. Info : Brenda de Bes 62812521
Australian Jamboree 2001
Australian Jamboree 2001 Info night at Reid Activity Centre, 7.30pm thursday 12 Aug. Info: Jacki Warner 62862680
Cuboree Video
Limited copies of the Cuboree video are still available for $20 from Branch. Quote: "Ring 62572251 for the video experience of a lifetime!!" Somehow I reckon our 3min videos would kick their butts, but give them a call if you're interested.
Father and Son Outward Bound
There is a notice about an up-and-coming Father and Son Outward Bound expedition. I don't think there are any sons aged 12-16 in our crew, or any fathers with sons aged 12-16 either, but I thought i'd tell you anyway so I can't be held guilty for withholding information. There is a list of future Outward Bound expeditions as well if anyone wants to have a look. They do stuff for 18-30 yr olds as well as fathers and sons.
18 June 1999
Scouts help in Balkans
There was a copy of an article which appeared in "World Scouting News" (the official newsletter of the WOSM) about Scouts helping in the Balkans. Scouts are going all sorts of nice things like collecting clothing for refugees, and if you would like to read the whole article you can ask me for a copy.
Scouts Australia website
Scouts Australia has a new website www.scouts.com.au/ with all sorts of interesting stuff on it. "Be sure to check out the new Campfire Circle for online chat, discussion and debate."
Water Activities
There is a huge list of all the Water Activities happening in ACT during 1999-2000. It includes info on Life Saving courses, Canoe training courses, kayaking, sailing courses, power boat and rescue courses, snorkel and scuba courses, regattas, etc. It is three pages long so I'm not going to give you all the details...but I have the details if you want to know details about one course or another, or you can call Noel Tarbotton on 62910882. If I remember, I'll bring the list along next time we have a programming night.
Rover T-Shirts
Don't forget to get an order form for your ACT Rover T-shirt on Monday night. I'll give the forms to Alison cos I won't be there. They have to be dropped at the Scout Office by Friday 25/6/99.
Branch volunteers Needed - Environmental Advice & Statistics
ACT Branch is searching for 2 volunteers. They need an Environmental Adviser Helper to assist the Environmental Adviser, whose job is to organise activities, prepare grant applications and sit on the Camp Cottermouth Board of Management. Apparently he is out of town a bit so would like an assistant. They are also after a Research Adviser to help them interpret statistics so they can have accurate info about the percentage of available young people in Scouting and future population trends. If you are interested or if you know someone who might be (not necessarily a scout) Contact Branch 62572251.
10 June 1999
Rover T-Shirts
About those T-shirts....I've got order forms for everyone and the non-pikers who went ice-skating the other night have got them. I guess everyone else will get them at the next meeting in 10 days time, though I'll be in Spain by then (ha ha and you won't be) but by that time there will only be a couple of days left before the deadline. So I'm just warning you that if you want one you will have to be really organised and drop your order form off to Snowgum pronto!!! (If you leave it stuck on the fridge for too long you will be TOO LATE!! And wouldn't that be a tragedy. I think they are $15 for short sleeves and $25 for long sleeved or something.
Position Vacant - Snowgum
Snowgum is looking for a part-time salesperson with some retail exp and a genuine interest in the outdoors. If you're interested I've got the notice with the rest of the details...
If you are "under 30, keen to explore another culture, and make a difference in the Asia-Pacific" you could be an AUstralian Youth Ambassador. You are provided with training, travel, in-country support, settlement allowances and post-assignment alumni activities. Assignments are 3-12 months long. Applications for 2000 now being sought - I've got the details if you want them.
Service
Volunteering ACT is seeking volunteers (duh!) for sport, environment, helping migrants with English, working with disabled people, Questacon etc. Call 62421311.
ACT Branch Moot
And another reminder about the Moot of the Holy Grail!!! 11-14th June, for details or bookings call Shelby 62488750 or 0412 575 699.
May 1999
Intencity Night
Monday 21st June - Intencity night run by LBG Rovers. 2hrs free games plus nibblies. $10 per ticket or $9 before 14 June or $8 if you buy 10 or more before 14 Jun. Call Rochelle Palmer on 62315931.
Terry Fox Fun Run
Sunday 20 June - Terry Fox Fun Run, starting 10am at the Canadian High Commision. All proceeds to ACT Cancer Society. $10 if you register before 11 June or $15 on the day. Fee includes pancakes and maple syrup after the run. Call 62704021 for registration forms or pick one up at the Scout Office.
Branch Moot - June Long Weekend
ACT MOOT - I guess you will all have got the official email about the Moot of the Holy Grail but just in case....its on 11-14th June at Cotter and is $30. Call Shelby Amour 62488750.
---
This page was last updated on: Tuesday, 18 April 2000
Contact Details:

Bethungra Rover Crew
C/- ACT Scout Headquarters
PO Box 251, Civic Square, ACT 2608

OR

Email us:

This page was created by Jenny Farrelly (content) & Neil Pickford (Markup)