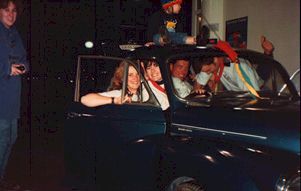 Q: How many members of a Rover Crew can you fit into a Morris Minor?
A: That many! (Above)
This page has been divided into the four youth development aims of the Rover Movement and a section on upcoming activities. Don't forget to have a look at the Photo Gallery.
Masquerade Ball - 1997
Bethungra Rovers put on there best duds for the Masquerade Ball, helping raise funds for ACT scouts to attend the Jamboree. A good time was had by all, particularly those watching Darren trying to dance wearing Roller Blades. Have a look at the photo.
Gang show - 1998
Several members of Bethungra showed off their hidden talents by being part of the annual ACT Scout and Guide Gang Show. Alison, Christine, Gerard, Coran, Serena and Megan, acted, danced and sang their way through the variety show, while Melanie was backstage making props.
Stick your finger in your ear...
...if you feel silly it is probably because you look it. But if you have enough confidence and self esteem than who cares. As a part of Darren's BP award he ran an interesting session on Self Esteem. Nice things were said about every one present and everyone left with a warm and fuzzy feeling.
Tai Chi
Chris organised a relaxing evening of meditation and spiritual enlightenment with one of the local Tai Chi instruction schools. While some of the Crew found the pace too slow for them, others found it to be a nice change from the usual.
Woodwork
Merle got everyone's creative juices going yet again with a pleasant evening of painting. The actual woodwork part of the proposed evening turned out to be problematical due to the lack of a workshop and the necessary tools. Still everyone had a good time splashing paint around and making things look pretty.
It was very hard choosing between the variety of physical things that the crew participates in but as I could not isolate one evening of Rock Climbing, abseiling etc, I went for something completely different.
Belly Dancing
Alison had everyone twisting and turning in an evening of scintillating dance instruction. Everyone was having difficulty making there bodies complete the difficult manoeuvrers required, but by the end of the evening everyone seamed to have got the hang of it (or had given up in fits of laughter).
Netball
The Crews two Netball teams are going strong. "Dangerous when bored" have improved dramatically since their first season and are actually winning a few. "Missing Evidence" is continuing its strong and consistent performance. All the members of both teams are having fun despite any problems or loses. A spirit of fun and good sportsmanship prevails.
Ice blocking
Remember how it feels to sit on cold and damp concrete, well this is worse but a lot more fun. Large blocks of ice are placed at the top of a step slope and anyone game enough can ride these cold sleds to the bottom of the hill. Just be careful as this is usually done at Regatta Point, at the bottom of the ride down hill is a concrete path, (the occasional pedestrian) and the lake. So developing the ability to stop quickly is usually done within the first few trips down the hill.
Guy's spoil Gal night (and vice versa)
Ever felt like having a member of the opposite sex obey your every wish and command, well this is your chance. The Spoilers have to organise an evening to the taste of the Spoilees and then make them feel like their every wish is a command. If this doesn't sound like fun if you are one of the Spoilers just wait, in a couple of weeks the tables get turned and you can be the one with your feet up while you are waited on hand and foot.
Others
Planetarium, real rockclimbing, rollerhockey,Winter skiing, snowboarding fun!
Squash, orienteering, paint a pair of jeans, chalk chase, bush tucker tour, caving, beach.